Xeni Jardin at 11:18 AM Thu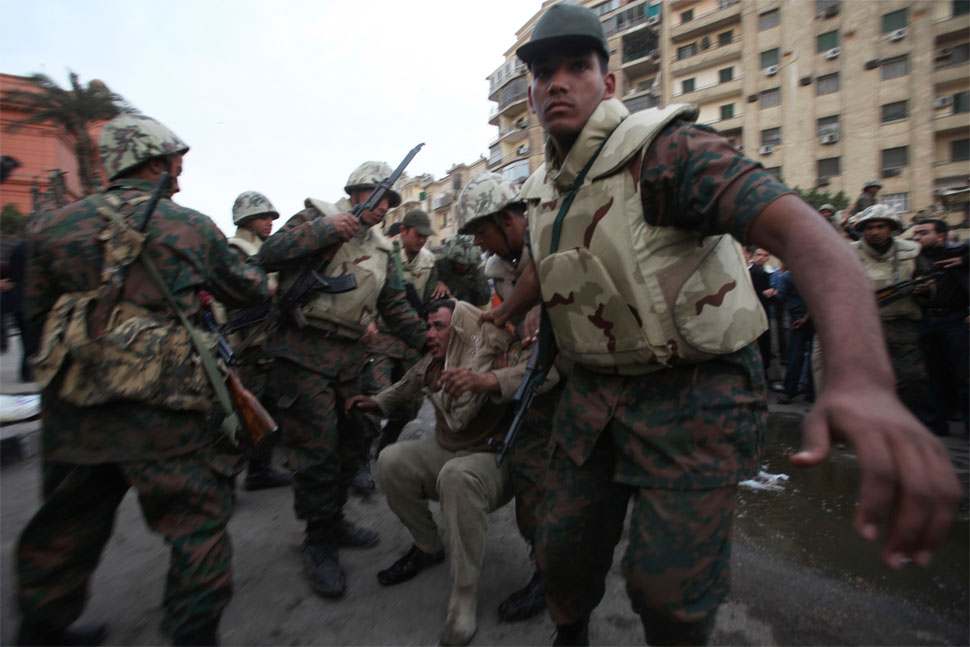 A pro-Mubarak supporter is led away by the army during rioting near Tahir Square in Cairo February 3, 2011. Anti-government protesters and supporters of Mubarak clashed on Thursday near a central Cairo square in a re-run of overnight violence that killed six and wounded more than 800 people. REUTERS/Suhaib Salem


After reporters claimed a Hilton property in Cairo was cooperating with Egyptian security forces, the hotel chain today confirmed in a statement that it has asked correspondents to stop filming from its locations in Cairo.

A number of western news staff have based their operations at the hotel, and according to reports circulating today, it was from a Hilton hotel in Cairo that broadcast equipment belonging to BBC News reporters was seized, to prevent the network from producing and broadcasting news from Cairo.

Over the past 24 hours, security conditions for journalists in Egypt reporting on the popular uprising have deteriorated; a number of reporters have been beaten, arrested, and detained; in many cases, equipment has been confiscated. The incidents are believed to be part of a systematic campaign to block non-state media from covering what is becoming an increasingly bloody response to peaceful demonstrations calling for an end to Mubarak's 30-year authoritarian rule. Rumors are circulating among reporters in the region that hotels will be raided tonight by state security forces seeking to round up foreign news organizations.

I contacted the corporate communications office for Hilton Hotels worldwide, and a spokesperson shared the following prepared statement:
Due to the gravity, immediacy and dynamic nature of the situation in Cairo, our hotel is implementing additional measures to ensure the ongoing safety and security of our guests and employees, as this remains our highest priority. These measures include a request not to film from the property due to the threat this poses to the reporters themselves as well as others on property. We appreciate your understanding and support during these challenging circumstances.