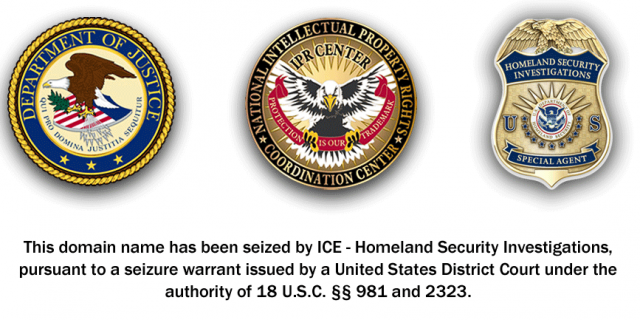 ICE Seizure: The US homeland security puts this page up when they appropriate a domain. ICE puts the summer heat on counterfeiters --PSA released last month now has nearly 100,000 view WASHINGTON – As the summer months begin in the United States, U.S. Immigration and Customs Enforcement's (ICE) Homeland Security Investigations (HSI) is keeping the heat on counterfeiters by seizing domain names of websites used to sell counterfeit goods and illegally distribute copyrighted materials. This operation marks the fifth phase of "Operation In Our Sites," a sustained law enforcement initiative aimed at counterfeiting and piracy over the Internet.
The websites seized during this phase of "Operation In Our Sites" include: Mygolfaccessory.com, Freshkicks4u.com, Freshcaps4u.com, Watchnewfilms.com, Re1ease.net
During the course of the operation, ICE HSI agents investigated websites suspected of selling counterfeit goods and illegally distributing copyrighted material in the United States. Once the materials were confirmed as counterfeit or otherwise illegal, seizure orders for the domain names of the websites that sold or distributed the items were obtained from federal magistrate judges. Individuals accessing the websites will now find a banner notifying them that the domain name of that website has been seized by federal authorities.
"American business is threatened by those who produce counterfeit trademarked goods and pirate copyrighted materials," said ICE Director John Morton. "From counterfeit pharmaceuticals and electronics to pirated movies, music, and software, IP thieves undermine the U.S. economy and jeopardize public safety. That is why the Operation In Our Sites initiative will continue through 2011 and beyond. Our efforts through this operation successfully disrupt the ability of criminals to purvey counterfeit goods and copyrighted materials illegally over the Internet."
This nationwide operation was spearheaded by the ICE HSI-led National Intellectual Property Rights Coordination Center (IPR Center) in coordination with U.S. Attorneys' Offices for the Northern District of California, Southern District of Texas, and Western District of Washington and HSI offices in Houston, San Francisco and Seattle.
In June 2010, ICE HSI and the IPR Center began "Operation In Our Sites." Since the launch of this operation, ICE HSI and the IPR Center have seized a total of 125 domain names and redirected those domain names to a seizure banner. Seventy-six of the 125 domain names seized have now been forfeited to the United States government. Through the forfeiture process, individuals who have an interest in the seized domain names are provided a period of time after the "Notice of Seizure" to file a petition with a federal court and additional time after the "Notice of Forfeiture" to contest the forfeiture. If no petitions or claims are filed, the domain names become property of the U.S. government.
Last month, the IPR Center launched a public service announcement (PSA) that appears on each of the 76 forfeited domain names. Since the launch of this PSA on ICE's YouTube page, this video has received nearly 100,000 individual views, educating the public about the economic impact of trademark counterfeiting and copyright infringement. The PSA on forfeited websites is a significant benefit of this enforcement operation in deterring future crimes and in raising awareness.
In December 2010, the New York City Mayor's Office of Media and Entertainment launched the PSA campaign entitled "Piracy Doesn't Work in NYC," which targets digital piracy. The goal of the campaign is to reinforce to the public that the jobs of New Yorkers who work in and support the creative industries in the city are threatened when digital entertainment such as books, movies and songs are illegally downloaded.
"A significant amount of the creative entertainment that gets produced each year is made in New York City whether it's books, music, films or television shows," said Katherine Oliver, commissioner of New York City Mayor's Office of Media and Entertainment. "The City is home to nearly 700,000 New Yorkers who make their living either working in or supporting those creative industries so when people illegally download their entertainment, lost revenue from those actions could mean lost jobs in the City."
Intellectual property rights violators unfairly devalue America's contributions, compromise American jobs, and put consumers, families, and communities at risk. They also protect the actor, director, writer, musician, artist, and countless others who labor in and around America's entertainment industry from having a movie, manuscript, song or design illegally sold by someone who had no part in the artistry of creating it. Intellectual property rights are intended to discourage thieves from selling cheap imitations of products that are often far less safe or reliable than the original products. More importantly, intellectual property rights protect public safety by preventing the proliferation of counterfeit pharmaceuticals and other materials that are potentially harmful.
It is estimated that intellectual property thefts costs American industry billions of dollars and hundreds of thousands of jobs every year. Additionally, "Operation In Our Sites" is also targeting counterfeit pharmaceuticals, software, electronics, games and other products that threaten public health and safety.
The IPR Center is one of the U.S. government's key weapons in the fight against criminal counterfeiting and piracy. The IPR Center is led by ICE HSI and includes partners from U.S. Customs and Border Protection; FBI; Food and Drug Administration, Office of Criminal Investigations; Postal Inspection Service; Department of Commerce, International Trade Administration; Patent and Trademark Office; Naval Criminal Investigative Service; Defense Criminal Investigative Service; Army Criminal Investigative Command, Major Procurement Fraud Unit; General Services Administration, Office of Inspector General; Consumer Product Safety Commission; Defense Logistics Agency, Office of the Inspector General; Air Force Office of Special Investigations; Department of State, Office of International Intellectual Property Enforcement; INTERPOL; Government of Mexico, Tax Administration Service; and Royal Canadian Mounted Police.
As a task force, the IPR Center uses the expertise of its member agencies to share information, develop initiatives, coordinate enforcement actions, and conduct investigations related to IP theft. Through this strategic interagency partnership, the IPR Center protects the public's health and safety, the U.S. economy and the war fighters.
To report IP theft, visit www.IPRCenter.gov.
You may also visit us on Facebook, Twitter and YouTube, or access this news release on your mobile device.
**********
comment from Andrew Adams, Meiji University , Tokyo
that its title has passed to the US Government. I thought it was now settled
law that domain names were not "property" but simply a contractual arrangement between the registrant and, via registar and registry, ICANN for
the root servers and the relevant servers below that to provide routing information?
If these names have become property of the US government, are they now held in perpetuity by the US government unless it assigns them elsewhere (such as
to the trademark holder on whose behalf they have seized them)?
<
http://torrent-finder.info/
torrent-finder-domain-seizure.
php
>, the
registrer of the
torrent-finder.com
domain does not seem to have got
any notice of seizure when ICE seized it last August.

As to "PSA released last month now has nearly 100,000 views" in the
subtitle of ICE's
<
http://www.ice.gov/news/
releases/1105/
110525washingtondc.htm
> press
released, in <
http://www.youtube.com/watch?
hl=en&v=cx8obpx4844
>: ICE
did not only disable comments, but ratings too.

ICE did not caption this PSA either (and they did not even allow YT's
automatic captioning), though the US govt's "Electronic and
Information Technology Accessibility Standards (Section 508)"
<
http://www.access-board.gov/
sec508/standards.htm
> say:

"...§ 1194.24 Video and multimedia products.(...)
(c) All training and informational video and multimedia productions
which support the agency's mission, regardless of format, that contain
speech or other audio information necessary for the comprehension of
the content, shall be open or closed captioned. ..."

So I did in <
http://www.
universalsubtitles.org/videos/
eFWL4Bdp3J09/
>,
which also produces a transcript (1):

"(Street noises)
Hawker: Free movies, I got free movies!
Woman: What do you mean?
Hawker: the same movies you see in the theater, I've got them on DVD
and they're free.
Woman: Free?
Hawker: Free - furreee. I'll be honest: they are illegally downloaded,
but they are free.
Man: Yeah, OK I'll take them.
Woman: Can I take two?
Hawker: Sure, you can take two, but there is a catch: if you take
these movies, this nice woman right here loses her job.
Man: I don't know her.
Woman: No, you don't...
Hawker: Yeah: these are illegally downloaded movies. Because of that,
people like her are losing their jobs.
Man: ...making this so literal. I mean is this really
Hawker: Yeah.
Man: Is this the consequence of all this stuff? I'm going to take them.
Hawker: You are? - Man: Yeah. Hawker: Why? Because you have no soul?
Woman: If I take this, she loses her job?
Hawker: That's right. It's real.
Man: I'm gonna just take three. Just three.
Hawker: You are wrong with everything. What's more important? The
movie, or this human being?
Woman: no, I'm not taking them
Hawker: You see? You're a nice person - She's a nice person, she just
didn't know. And now you know. Look, whether you get it of the street
or of the internet, digital piracy and product counterfeiting are not
victimless crimes. The financial repercussions are huge.
Hawker (on beat music): Show the world that piracy doesn't work. Do it!
(music fades to street noises; written message: PIRACY DOESN'T WORK.
Lean more about how to fight IP theft and submit a tip by visiting

www.ice.gov/ipcenter
)"

(there is also a mute victim character who holds something that looks
like a dusting mop to folks who don't work in video - actually a pro
mike with a furry wind protection)

Now, re "illegally downloaded movies", I don't know exactly about
other countries, but in Swiss and Italian laws at least, :
offering/selling/uploading an illegal copy is illegal, but
downloading/buying one is not illegal, because folks can't be
expected to be able to tell if the copy is legal or not. So "illegally
downloaded movies" does not make legal sense.

Best, Claude

(1) I also reused the captions in <
http://www.youtube.com/watch?
v=1vofoulQUdU
>
http://www.ice.gov/images/common/gfx_band_ICEcalloutBkg.png); background-attachment: initial; background-origin: initial; background-clip: initial; background-color: initial; width: 479px; height: 115px; font: normal normal normal 1em/1.5em Arial, Helvetica, sans-serif; background-position: initial initial; background-repeat: no-repeat no-repeat; ">