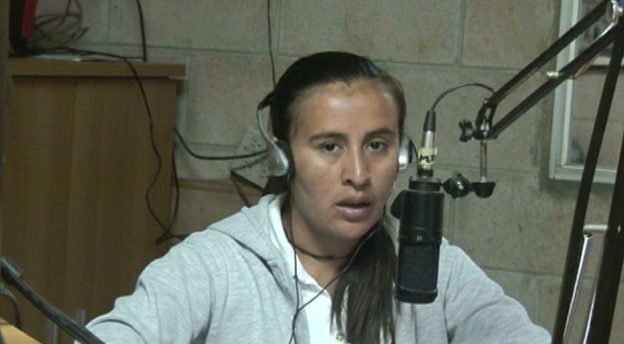 Radio Victoria Announcer:
Hello Friends, I hope you are all well. I am far from Radio Victoria but have been in touch and have some things to report.
Last week the mayor of Victoria put up a large ARENA party flag in the middle of Santa Marta which made a lot of people angry because of past history; ARENA's connections to death squads, military force and repression as well as implementing policies that favored big businesses and the weathly elite during the 20 years they ran the government.
After the mayor put up the flag in Santa Marta about 3 busloads of community members went up to Victoria to protest this disrespectful act.
A few days later Radio Victoria members began to receive death threats, again, and nocturnal visits to their remote rural homes.
You all can imagine how this wears on us. Radio members can not go and stay in their homes, they cannot be with their families and they always have to be wary and careful wherever they go and whatever they do.
These latest threats were tracked to a ciber cafe in San Salvador. It was not the police but rather our own Radio members that discovered this through contacts.
So, we are once again calling on your all to denounce these on-going threats whevever and however you can. I do not have contact numbers or email addresses with me but I think if you google you can find El Salvador's Attorney General's office, or the Minister of Justice or the President.
Also any calls or messages in spanish directly to the Radio is always a form of support that shows how widely the Radio's network of friends reaches (503-2239-3093)
thank you so much for you attention and for being part of our sturdy community station that is always accompanying the communities.
HERE ARE THE CONTACTS:
FAX: +503 2523 7170 - Attorney General Romeo Barahona's office
EMAILS:
Señor Rodolfo Delgado, director of the Organized Crime Unit of the Attorney General´s office:radelgado@fgr.gob.sv.
AND please send a copy to the Human Rights Defense Office to Señor Oscar Luna: heidybrizuela@pddh.gob.sv