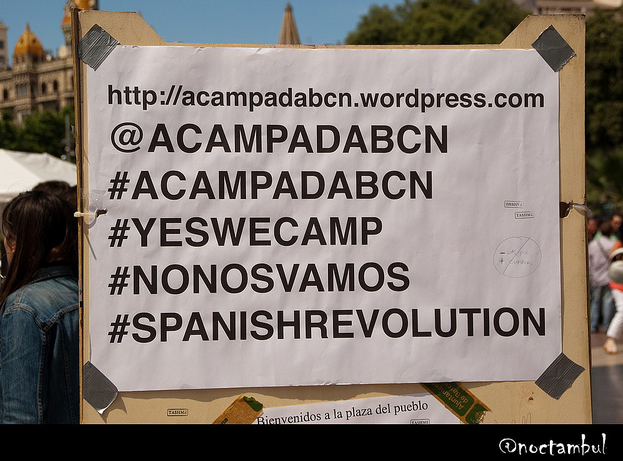 Spanish RevoltDECLARATION OF PRINCIPLES

#acampadabcn

We have come here voluntarily and by free will. After the 15th of May  
demonstrations we have decided to remain united and grow in numbers on  
our fight for dignity. We do not represent any political party and  
they do not represent us.

We are united on our rage, our discomfort, our precarious life which  
is derived by inequality but, above all, what keeps us together is our  
will for change. We are here because we want a new society that puts  
our life on top any political or economic interest. We feel crushed by  
the capitalist economy, we feel excluded from the present political  
system which does not represent us. We are striking for a radical  
change in society. And, above all, we aim at keeping society as the  
sole driver of this transformation.

They thought we were asleep. They thought they could carry on cutting  
our rights without finding any resistance. But they were wrong: we are  
fighting – peacefully, but with determination – for the life we deserve.

We have learned from Cairo, Iceland and Madrid.

Now it's time to extend the fight and spread the word.

Information #acampadabcn



http://acampadabcn.org/

acampadabcn.wordpress.com

acampadabcn@yahoo.es

http://desrealitat.blogspot.com/


Timetable (daily until we remain camped)

19:00h – Work committee
19:30h – Coordination and preparation of the general meeting
21:00h – Popular "frying-pan" protest
********************
From OVNI:


hola amigoas!...

 
en / at
http://desrealitat.blogspot.com/

encontrareis:
 
un video ideal para estos dias y en castellano
"Attention, danger, travail"
con click a pantalla entera
+
 
Debtocracia...sobre el saqueo a Grecia (english)
 
i
 
un genial mapa conceptual de la Republica del Sol dels amigoas de
http://www.unalineasobreelmar.net

Attention, danger, travail, Pierre Carles, Christophe Coello, Stephane
Goxe , França 2003, 1h 45 min

Diez parados y paradas cuentan por qué y cómo han decidido dejar de
trabajar. Después de haber conocido durante tiempo el mercado
laboral, estos hombres y mujeres han huido de la fábrica, el almacén
o la oficina, decididos a no aceptar las reglas de la guerra
económica actual. Lejos de la imagen del parado agobiado o deprimido,
estos "desempleados que no piden trabajo" explican abiertamente
porqué buscan realizarse fuera del mundo laboral, con pocos recursos
pero con tiempo para dedicarse a ellos mismos.
 
------------------
 
Deu aturats i aturades expliquen per què i com van decidir deixar de
treballar. Després d'haver conegut durant un cert temps el món
laboral, aquest homes i dones han fugit de la fàbrica, el magatzem o
l'oficina: decidits a no acceptar mai més les regles de la guerra
econòmica actual. Lluny de la imatge de l'aturat angoixat o
deprimit "aquests són aturats que no demanen feina", expliquen
obertament perquè cerquen de realitzar-se fora del món del treball,
amb molt pocs recursos, però disposant de molt més temps per
dedicar-lo a ells mateixos.
 
---------------

Ten unemployed men and women talk about why and how they've decided
to stop working. After a period of familiarity with the labour market,
these men and women have turned away from factories, warehouses and
offices, determined to reject the rules of the existing economic war.
Far from the usual worried or depressed image of the unemployed these
"unemployed people who don't ask for work" openly talk about
their reasons for seeking fulfilment outside of the workplace, with
little financial resources but plenty of time to spend on themselves

abraçaaades mil
 
y quizás podamos correr los velos de esta desRealidad
 
abrazos
 
ovni sisterhood



****************
Y en gran canaria:

Mas de 5.000 personas permanecen concentradas en la plaza San Telmo de Las Palmas de Gran Canaria
Emotiva crónica del proceso en Las Palmas. Tras la cacerolada de 5.000 personas, la concentración.
Los indignados abarrotan la Plaza de la Montañeta


PEDRO LARRÉ (REDACCIÓN LAS PALMAS)
SÁBADO 21 DE MAYO DE 2011. NÚMERO 150
La plaza de San Telmo en Las Palmas de Gran Canaria está empezando a ser literalmente tomada por la población civil. Ya son decenas las personas que se quedan a pasar las noches, y muchas más las que acuden a las concentraciones y asambleas. Cada día que pasa se suma más gente, vecinas y vecinos indignadas, tanto para acampar como concentrarse y protestar, o simplemente para ayudar solidariamente con todo tipo de aportaciones.
Acampada Las Palmas.
La capacidad de autogestión de las ciudadanas y ciudadanos congregadas bajo la misma indignación propicia que actualmente ya se estén celebrando asambleas a las que asisten más de 300 personas, y en las que, a pesar de las muchas dificultades existentes, se autoorganizan para dirimir todas las cuestiones políticas, comunicativas y jurídicas y para ir solucionando todos los problemas de la vida cotidiana de la gente. Es muy digno de destacar que, a pesar de la presencia de tanta gente, y sus diferentes condiciones sociales, raciales o de edad y sexo, casi todos los acuerdos se toman por un consenso prácticamente total.
En dichas asambleas se refrendan los acuerdos y propuestas de las comisiones surgidas para realizar el trabajo constante (ya hay comisiones de prensa, política e ideología, organización, infraestructuras, etc. y se prepara otra para ocuparse de las cuestiones jurídicas), se acuerdan actos a celebrar en los días siguientes, o incluso se debate largamente acerca de todo tipo de cuestiones políticas: sentido de diferentes tipos de voto, por ejemplo, o cómo responder a un hipotético intento de desalojo . Y efectivamente, se consensuan manifiestos ideológicos, o posicionamientos comunes ante los grandes medios de comunicación.
En este sentido, se acordó que en las ruedas de prensa se lean manifiestos y se contesta a todas las preguntas relativas a lo expuesto, así como cuestiones relacionadas con las convocatorias, organización interna o cualquier otra cuestión, pero nunca acerca de cuestiones personales como la intención de voto, intentando contrarrestar la influencia y manipulación constantes de los grandes medios de comunicación que tratan de dividirnos.
La ciudadanía se está autoorganizando para crear, imprimir y pegar carteles, repartir octavillas, colocar pancartas, preparar actuaciones y acudir a centros educativos para informar de la presencia de esta acampada.
El ambiente está muy politizado. Se leen lemas por todas partes referentes al Mayo del 68, a la unidad del pueblo, a la expresión del descontento político y social, a las opciones libertarias de autogestión, pero también se pueden leer lemas profundamente vitales y lúdicos como una pintada que dice ''si follar cada cuatro años no es tener vida sexual, votar cada cuatro años no es democracia'', u otra que dice: ''Yo estoy vivo, y tú?''. También en las asambleas y reuniones de trabajo se escuchan desde canciones reivindicativas a testimonios de personas mayores, familiares de represaliados en las luchas anteriores al franquismo.
Todas las jornadas transcurren con absoluta normalidad, en un ambiente muy solidario, pacífico y creativo. De forma permanente se forman corrillos donde se habla y discute, y de donde constantemente surgen todo tipo de cuestiones que posteriormente se trasladan a las asambleas. Hoy viernes se ha realizado una sonora 'cacerolada' por la céntrica calle Triana, la cual ha congregado a más de 5.000 personas, que en este momento permanecen concentrados en la plaza, participando en eventos tanto reivindicativos como festivos. Está previsto que esta noche pernocten cientos de personas, pues han anunciado su presencia numerosos colectivos de estudiantes de diversos centros educativos.
Cacelorada en Las Palmas.
Mañana sábado se guardarán cinco minutos de silencio, en señal de duelo por la muerte de la democracia, y se están preparando actividades infantiles, con el fin de integrar al mayor número posible de ciudadanía.
Todos los actos y llamamientos que se realizan cada vez tienen más repercusión, y es muchísima la gente que está apoyando esta iniciativa popular autogestionada de reivindicación y expresión de la rabia. La gente trae dinero, utensilios de todo tipo como vajilla o mantas, sacos y alfombras o megáfonos y motores generadores de electricidad, y grandes cantidades de comida cocinada.