"Be careful," I said to my childhood friend Sabeen Mahmud when I saw her in London in 2013, soon after she'd received a death threat – neither the first nor last. "Someone has to fight them," she replied.
"Fear is just a line in your head," Sabeen had once said in an interview with Wired magazine – and she and I lived on different sides of that line. On Friday night, Sabeen was murdered, gunned down in her car in Karachi as she drove home with her mother.
There aren't too many people from Karachi with a clear conscience. It's a city of many horrors powered by even more guns, and fear makes most people live in a silence that becomes complicity. But Sabeen was always a woman made of different stuff, thanks in large measure to the two great influences of her life: her mother, Mahnaz (shot twice during the attack), from whom she inherited her socialist tendencies, and her friend and mentor Zaheer Kidvai (Zak) who introduced her to the idea of counterculture, via everything from Abbie Hoffman to revolutionary Urdu poets. While most of us at our elite school in Karachi lived in a fairly apolitical bubble, Sabeen was developing class-consciousness and identifying political heroes. Post-university, when most of her schoolfriends were choosing not to return to an increasingly embattled city, she decided to take another approach.
"I wondered if I could create a minuscule postmodern hippie outpost, a safe haven for artists, musicians, writers, poets, activists, and thinkers — essentially anyone who wanted to escape the relentless tyranny of the city for a little while," she wrote in Innovations magazine. The answer was yes, she could – by maxing out credit cards, taking loans, and pushing herself to the point of exhaustion.
In 2007, the community space T2F (originally called The Second Floor, after its location in an office building) was born. It quickly became the city's leading venue for concerts, readings, science courses, coffee drinking, art exhibitions, Pakistan's first Civic Hackathon, and, of course, political activism. Everything that went on at T2F represented some facet of Sabeen's own, astonishingly wide-ranging interests. While she was far from being a national figure, with every year, she and T2F gained prominence and credibility for fighting to make civil society matter – whether the issue was minority rights, opposition to religious extremism or freedom of expression – she brought these issues into T2F, taking to the internet and the streets in protest and solidarity.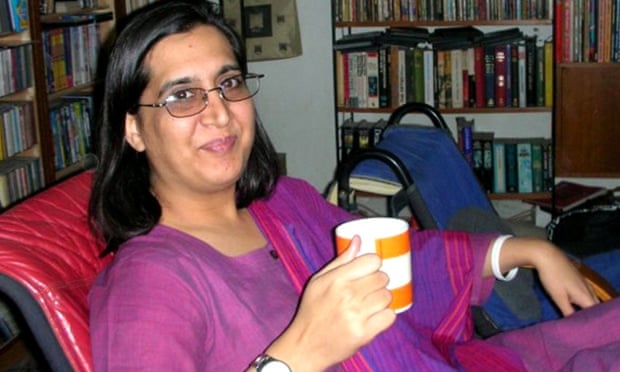 At T2F she often hosted people and events deemed high-risk. The last of these was Unsilencing Balochistan, a panel discussion on Friday that centred on the "disappeared" of the state of Balochistan. There is no area of conversation in Pakistan that is more "no-go" than Balochistan – Baloch activists continue to seek outlets to talk about the thousands claimed to have been abducted and killed by the state – but there is a virtual media blackout around the subject, particularly since the attempted assassination of powerful news anchor Hamid Mir was linked to his speaking out on the subject. Earlier this month, a university in Lahore cancelled a talk about Balochistan, involving the prominent activist Mama Qadeer, and issued a statement to say the cancellation was by order of the government. So, of course, Sabeen invited Mama Qadeer to come and talk at T2F instead. The event was packed, she uploaded a picture to various social media sites, and according to the journalist Saba Imtiaz she "laughed, smiled, shushed people and talked about what matters". Shortly after leaving T2F, two gunmen shot her dead.
This was a woman equally at home soldering wires, discussing Urdu poetry, playing cricket, attending every progressive political demonstration in Karachi, singing the back catalogue of Pink Floyd, and being my self-proclaimed "geek-squad for life". In 2013, she took on the religious fundamentalists by countering their "say no to Valentine's Day" propaganda with posters saying "Pyaar hone dein" (Let there be love). Later that same year, she helped form a human chain around a church in solidarity with Pakistan's Christian community after an attack on a church in Peshawar.
Those of us who loved and admired Sabeen now find ourselves asking: why? She didn't seek political power, she didn't have the sort of reach that major TV personalities command. Perhaps it was enough that, like Malala Yusufzai, she wasn't frightened of those who seek to control through fear. Her death is the latest in a series of high-profile assassination attempts (most of them tragically successful) of women in Pakistan who fearlessly take on one group or another that seeks to terrify its opponents into silence. It is better, as a friend advised me, to find sense in a life well lived than try to find the sense in a death.
I can't imagine her lifeless. Instead I keep seeing Sabeen as a teenager, silhouetted against a blue Karachi sky. She flicks her arm and a ball flies across the schoolyard with astonishing velocity. I can only watch, and wonder, where is all that power coming from?