Community media journalists are, in essence, "filling in the gaps" left by mainstream news outlets. Forde's extensive 10 year study now develops an understanding of the journalistic practices at work in independent and community news organizations. Challenging the News provides an inside glimpse into alternative and independent media journalism in the UK, US and Australia and is the first work to focus on providing practice-based examples of alternative journalism.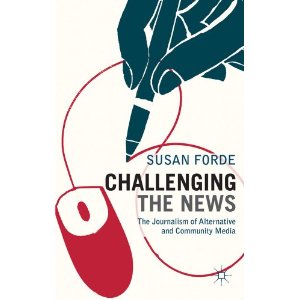 From Susan Forde:
Just a short note to let you all know that I have a new

book

published with Palgrave Macmillan in the UK, titled 'Challenging the News: The Journalism of Alternative and Community Media'. It's an examination of alternative and independent practices in Australia, the UK and the US -- and includes case studies from publications like Crikey, Village Voice Media in the US and some smaller UK independents such as SchNEWS and Peace News. The aim of the work was to get down to the essentials of what makes alternative journalism in a very practical sense and I hope it's an original contribution in that way. There is discussion of all forms -- print, community broadcasting and online alternative journalism -- and a chapter on policy as well.